Custom 79 series Landcruiser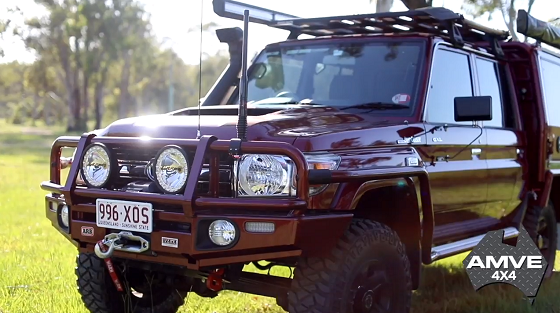 AMVE Custom 79 series Landcruiser, is a great example of how to UTE-alise (pardon the pun😆) the tray and canopies space. This custom built canopy and tray has had every detail meticulously planned and executed to maximise the space that is available. The work done on this is flawless.
Custom features on the steel tray are as follows:
6 x Flush mount tie down points anchored in the floor
50 litre water tank discreetly fitted under the tray 
2 x custom made and fitted toolboxes (one each side) Drivers side box modified to fit the fuel filler point
1200 mm roller draw, rear channel is tapered inline with the roller draw cover
Laser cut, tapered side rails, laser cut one-piece mud guards
Reverse Lights LED flush mounted,LED taillights
4X4 Customisation of the canopy are as follows:
Roof is fitted with 3 carry racks and solar panels
Rear fitted with 2 spare 285 tyres
80L drop down fridge on passenger side, shelf fitted to house all electrics
3 x Lift up doors
Centre is partitioned full width, separating from full open rear section  
Full lift off jacking leg system
Mounted locks fitted flush.
These products are of high quality and at affordable prices. If you desire is to customise your vehicle, then make sure you put some thought into your own personal requirements. Finding the solution that fits isn't too hard if you do your research. This is a great example of what you can do to elevate Landcruiser 79 series to reach ultimate perfection status. Go forth and conquer Australia in style.💪 
The only thing that I am missing now is the money and a custom built 79 series Landcruiser.
Like the look of this custom build and want to see more like it, then just  head over here to our equipment page