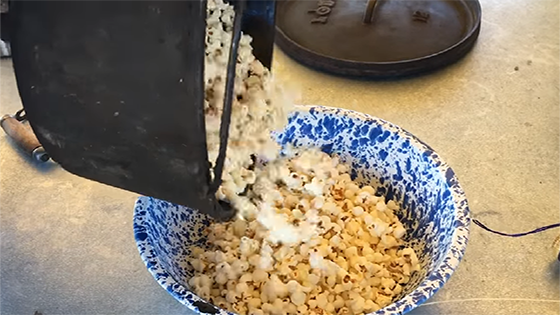 Just because your camping in the wild wild west dosent mean that you can't enjoy some simple pleasures like Dutch Oven – Popcorn. It truly is the kind of stuff that memories are made of.
Hell, we all know that sound pop 🧨pop🧨 pop🧨, and the smell is enough to draw a crowd for miles. It is so simple, no fuss required.
Method
Place the Dutch oven with the lid on onto the fire to heat up for approx. 15mins, then remove and set down on the ground to the side;
Remove lid and add 3 tablespoons of oil. (Your choice here people, can be olive oil, coconut oil, canola, avocado, rice bran or safflower);
Add 2 corn kernels and cover – this to the pot to test the heat. Once you hear them pop you are good to go. Now add 1 cup of corn kernels and replace the lid;
Place on a grill or just above the heat for a further 5 mins. You do not want the base of the Dutch oven to be directly on the heat/fire as this will cause the popcorn to burn (eww yuck);
Now put the lid on and wait for the magic to happen, once the sound stops you can open the lid.
Now turn the popcorn out into a bowl and add any kind of seasoning that you like.
Savoury Lovers
(i) Salt and Pepper
(ii) Chilli, Salt and Pepper
(iii) Keens curry powder, Salt and Pepper
Sweet Lovers
(i) Honey, melted butter (honey bliss bomb style)
(ii) Salt, Pepper and Sugar
It is a nutritious snack that you can whip up for hikes. It is also something fun that you can do with the kidlets to entertain them at night. Why not make a night of it, invest in a Portable Mini LED Video Projector, a White double bed flat sheet, make a batch of popcorn for the kids and sit back and relax.