Boulders Campground – Babinda
The Boulders Campground – Babinda – is about halfway between Innisfail and Cairns and only a short drive from the Josephine Falls. West of Babinda it is (or was at the time of writing) a free campground with amenities ( toilets, cold showers and bins for waste. Fires are allowed if there are no restrictions.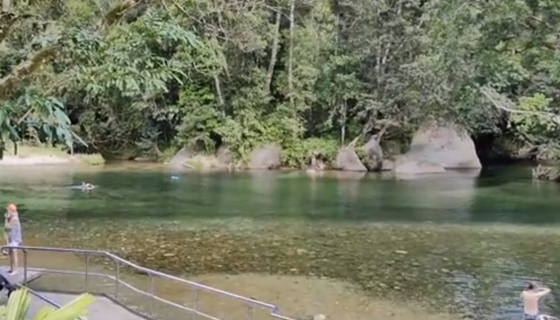 There is access for caravans and camper trailers and a often crystal clear creek to cool off in when you get tired of the tropical heat. While you are there you can trek up to the Boulders or just wander around the lush rain forest of the Gadgarra and Wooroonooran National Parks.
Where is the Boulders Campground?
Head west when you hit the town of Babinda, past the state school and follow The Bounders Rd until you come to the end of the road and you will see signs to the Boulders Campground. It is about 7 kilometers out. If you are not sure the Babinda Visitor Information Centre is located on Munro Street in Babinda, see the link below for their details.
Things to do around Boulders Campground:
Try and make the most of your time there, it is our understanding there is a limit of 2 nights stay. Options to keep yourself entertained includes:
Visit Josephine Falls
Visit Gadgarra National Park to the north
Visit Wooroonooran National Park to the south
Swim at Devil's Pool and splash in the waterfalls.
Walk to the Boulders
Take a trip out to Bramston Beach or one of the other secluded beaches along the coast.
Cook Damper with Cheese Bacon and Chives (why not?)
More information about the campground and surrounding areas see:
As always if there is any information about the Boulders Campground Babinda which has changed or should be included drop us a line via the Contact Us page.