Wallaman Falls North Queensland. Must See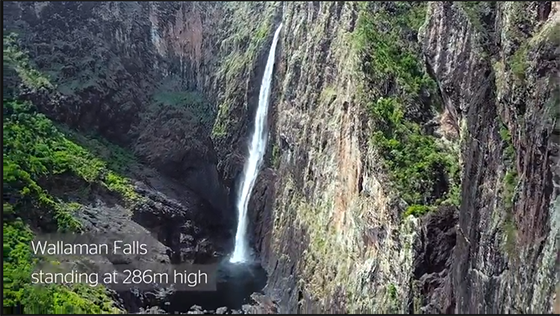 Wallaman Falls is a UNESCO World Heritage site listed in the Wet Tropics region of North Queensland. About two and a half hours drive north west of Townsville. It is a great stop on your way north to Cairns. The falls are situated in the Girringun National Park. Wallaman Falls Campground North Queensland is one of the few accommodation options in the area. You will need to book in advance, to do this follow this link.
Wallaman Falls key attribute that makes this must-see location so remarkable is that it boasts Australia's permanent single longest waterfall. The falls drop a staggering 268 metres straight down into the Herbert River. At the falls base in the bowl of the Herbert River if you are lucky you might  see platypus, eastern water dragon, and saw-shelled turtles. Wallerman Falls is also is the home ground for the endangered Southern Cassowary There are many beautiful bush walking trails that you can explore ranging from easy to hard levels. You have the option of staying a few nights or just a day visit for a picnic barbecue.
If you would like to see more options for travelling in FNQ then have at look here for some inspiration