Land Cruiser 79 Series Camper Conversion.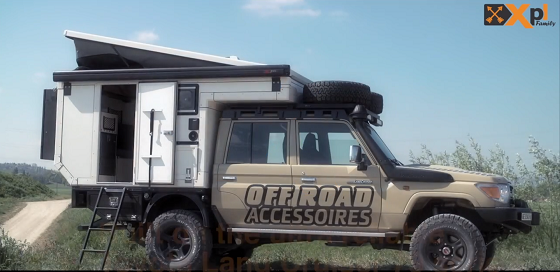 Looking for a Land Cruiser 79 Series Camper Conversion?
Here is a Toyota Land Cruiser 79 Series Camper Conversion, customised and built to perfection. Is there no end to Land Cruiser impressiveness. This off road camper certainly looks the part. As far as camper conversions go this one certainly hits the spot.
I reckon this is the only vehicle you would ever need. Although I am not too sure why it is sat on a dual cab. I guess if you have kids you can always stick them outside in a tent while you sit back and catch a movie. That said apparently there is room for 4 inside. If your missus snores anything like mine you may leave her in there with the kids and sleep in a swag outside.
This vehicle looks comfortable and easy to drive.
This camper conversion features:
• A dual Battery System
• Fridge and Freezer
• Fully equipped cabin by Globe Camper, see their Facebook page here
• Gas Burner
• Heavy duty suspension
• Plenty of storage in and out of the vehicle
• Recovery Equipment.
• Sink
• Sleeps 4 though the kids should sleep outside.
• Solar Panels
• All with a land cruiser petrol V6 engine
This is my dream vehicle, exactly what I need for Christmas this year. I can not find a single reason not to love this vehicle. Just need to work out how to tell the missus that I am selling the house to get us one. For other vehicle customisation head over and check out the equipment tab.
I think we gunna nickname this Land Cruiser 79 Series Camper Conversion,  'The Turtle'.
While it looks cool, we are not sure that Globe Camper are still up and running. No doubt many people are jumping into the camper conversion market. Last we checked their website was down. Feel free to correct us or point us to an alternate Camper conversion provider.